May 9th, 2015 -- by Bacchus
If you, like me, are in danger of being considered an "old fart" or a fuddy-duddy by today's young internet-ready generation, you may have noticed that entire waves of change can sweep across internet industries while you were ignoring them based on notions that have become hopelessly out of date. One such industry for me is camming. For too many years, clicking a cams banner was a one-way trip into browser-hijacking hell, and there was nothing to gain from the click unless you were genuinely interested in spending top dollar on a per-minute basis, which I never was.
Well, all that's changed now, in ways that I am only just starting to puzzle out. For one thing, performers now tend to maintain open public chats while they are waiting for paying customers, and things can get pretty entertaining as they flirt, tease, and do whatever they want to entice viewers into their private show space. Most performers still reserve the genuinely explicit performances for the paying customers, but competition is a thing, and pretty girls are everywhere. So if you click around, it's not hard to find free entertainment that's genuinely entertaining. There's also a sort of crowdfunding mechanism in play on many sites, where the show stays public but gets better after enough audience members kick in sufficient tips or tokens.
While researching (ha! I love my work!) this phenomenon just now, I stumbled across a performer whose decorative furnishings made me giggle. Meet PervertSlave4U and her huge orange bouncy dildo ball: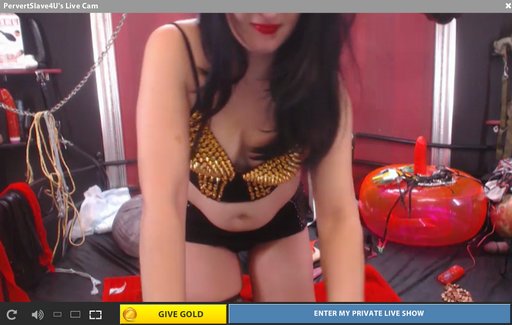 Let's zoom in on that bad boy, shall we?
Another thing caught my eye about Ms. Pervert when she turned around to show off her bottom. I've seen a spanked bottom or two in my time, and hers, although not dramatically bruised, definitely has been spanked: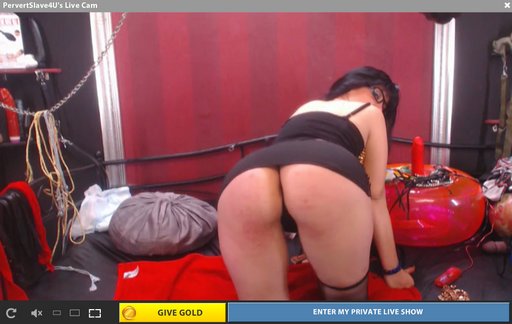 I didn't watch long enough to find out whether self-spanking is part of her show, or whether she brings that spanked bottom to the studio at the start of her performing day. But either way, it's the real thing: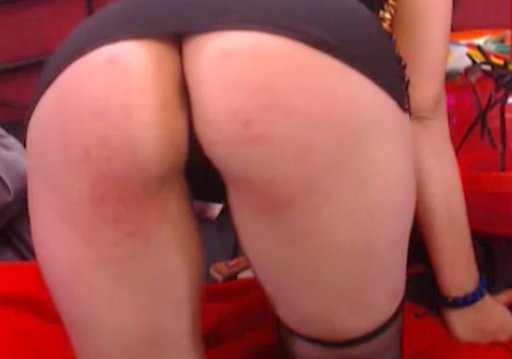 She performs on Streamate.
Similar Sex Blogging: